Solar Thermal collectors can help you to save on your energy bills and reduce your carbon footprint.
Use sunlight to provide hot water
Reduce your carbon footprint
Solar thermal uses heat energy from the sun to provide hot water. Collectors are installed on the roof, usually in the form of flat plate collectors or evacuated tubes. They absorb heat from sunlight, and transfer it to a hot water cylinder.
Installing a solar thermal system reduces the amount of energy your property draws from the National Grid to heat water, which saves money on your energy bills and shrinks your carbon footprint. Depending on the size of the system and the amount of hot water used, a solar thermal system could heat between 40% and 60% of your hot water annually.
Don't forget that installing a solar thermal system will also make you eligible for the Renewable Heat Incentive, which will make quarterly payments based on the amount of energy your system generates. So, not only will you reduce your bills, you'll be getting paid on top of that.
Solar thermal systems are distinct from solar PV panels, although flat plate collectors look similar! Solar thermal energy is only used to heat water, whereas solar PV panels power electrical appliances. See our solar PV page for more information.
Where can I find out more about Solar Thermal?
For more information about Solar Thermal, please read on below and also see our Solar Thermal FAQs page.
Is Solar Thermal right for me?
Solar thermal is a great choice for many households. However, there are some key requirements to meet:
Your property must have a hot water cylinder – if you don't have one, you'll need to install one
The cylinder needs to have enough capacity for the collectors to 'dump' the energy generated – required capacity depends on the size of the system
Occupants need to consume hot water regularly
These are necessary for the system to function. Don't despair if your property doesn't meet these criteria – why not look at the other solar technology we install?
While solar thermal systems are good for anyone who meets the above criteria, they're especially suitable to properties with high summertime demand for hot water, such as properties with swimming pools, or campsites with shower blocks.
What's the process for installing a Solar Thermal system?
When designing a solar thermal system, we calculate the amount of hot water used per day, taking into account the number of occupants, how many showers and baths they take, and shower flow rates.
We also calculate how much energy the collectors are likely to generate based on roof pitch and orientation, as well as data from the collectors' manufacturers (better quality collectors will collect more heat energy).
As a guide, an average home with four occupants will normally need around 4m² of solar collectors installed on the roof, and a 250-litre hot water cylinder. Approximately 80 litres of that will be dedicated solar capacity, i.e. for the system to be able to transfer the energy it generates.
In most cases, we recommend flat plate collectors. Despite being less efficient than evacuated tube systems, they are easier to maintain and more reliable. Like solar PV panels, they can be mounted on-roof or in-roof. For solar thermal systems, in-roof installation is more efficient as less of the panel is exposed to the air.
It's unlikely that you'll need to seek planning permission to install a solar thermal system at a domestic property. Generally, this is only needed if the building is listed or in a conservation area. However, always seek advice from your local planning authority if you're unsure.
I'm interested in having a Solar Thermal system fitted or maintained. How can Gregor help?
For all customer enquiries related to Solar Thermal Energy systems, or to book a free no-obligation survey, don't delay, call Gregor today on 0117 935 2400 or 01225 738 397 and ask to speak to the Renewables team. We cover Bristol, Bath, Somerset, and surrounding areas. We look forward to your call.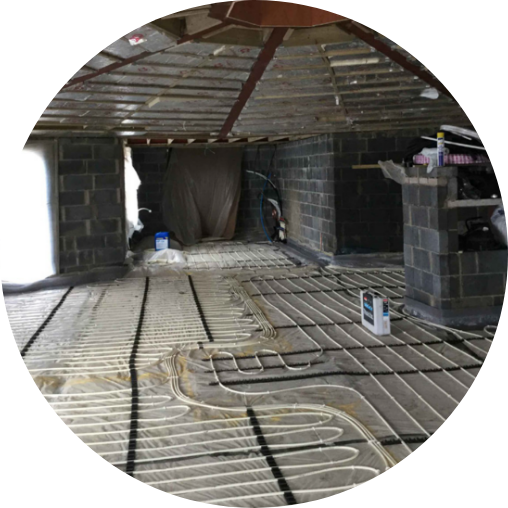 Underfloor Heating Case Study
Gregor Heating were called in to help the couple realise their dream of this ambitious self-build project. They wanted to build a unique eight sided octagonal house in the village where they had lived their whole life. Richard Blackmore, renewable technical manager, and the Gregor team worked closely with the couple to help bring their vision to reality in the two years planning before the project build began.